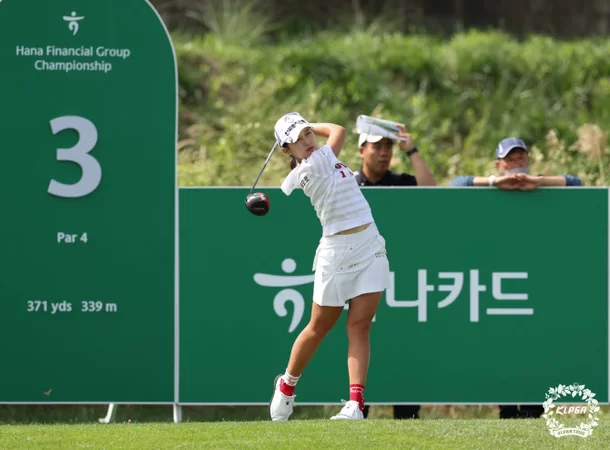 [Incheon=Daily Starin Joo Young-ro] Park Hyun-kyung (23), Lee So-young (26) and Song Ga-eun (23) share the lead on the first day of the Hana Financial Group Championship on the Korean Ladies Professional Golf (KLPGA) Tour, which has a prize pool of 1.5 billion won ($270 million).
Park carded five birdies and no bogeys for a 5-under 67 in the first round of the tournament at BearsBest Cheongna Golf Club (Par 72) in Incheon, South Korea. She made two chip-in birdies on the 11th and 18th holes (both par-4s) to finish strong.
Lee So-young also had five birdies without a bogey on the day, while Song Ga-eun carded six birdies and a bogey to join Park Hyun-kyung at 5-under 67.
Park, Lee, and Song are all strong players with at least two wins on the KLPGA Tour.

However, none of them have won this year.
It's been more than two years since Park, who sits fourth on the money list, has tasted victory.

It's been two years and four months since she recorded a career-best three wins at the KLPGA Championship in May 2021.
During her winless streak, she has had plenty of chances, finishing runner-up nine times, but has always been unable to get over the final hurdle.
Most recently, Park led the Doosan E&C Weave Championship in August after two rounds and was hoping to break her nine-match winless streak, but a 73 on the final day meant she finished in fourth place.
After the tournament, Park said, "After last week's tournament, I thought I couldn't go on like this, so I went into correction," adding, "I'm still working on it, so I didn't have any expectations for this tournament, I just made the most of what I've been practicing and took it easy with the mindset of getting out of qualifying, but I was lucky to have two chip-ins and some good shots.
Park, who had many chances to win this year but couldn't quench her thirst, said, "I keep doubting myself because it seems like I can and I can't, so I keep thinking, 'Can I really do it?' I'm trying to get rid of that doubt. I'm trying to get rid of that doubt by focusing on what I can do and not being influenced by my surroundings," she said.
Lee, who has six career victories on the KLPGA Tour, has yet to win a title this year.

It has been more than a year since she last won at the Daewoo Women's MBN Women's Open in August last year.

Her best result this season was a runner-up finish at the Hana Financial Group Singapore Open in Singapore last December.
Song Ga-eun, who won her first professional title at the event in 2021, has jumped back into contention for the title after a two-year absence.
Song, who won her second career title at the Daebo Howdy Open in August last year, has been winless this year with just three top-10 finishes and has slipped to 39th on the money list.
After missing the cut last year when she attempted to defend her title as the defending champion, Song got off to a good start this time around by sharing the lead on the first day.
"Last year, I had the pressure of being the defending champion, so I struggled and missed the cut," Song said.

"Although I played on a different course than when I won, I had experienced it once last year and had the good energy of this tournament (where I won), so I played more confidently."

"I didn't have high expectations because I didn't play well last year, but yesterday's overtime replay gave me confidence," he said, recalling fond memories of his first win two years ago.
Madasom, who recorded her first professional victory at the OK Financial Group Isman Open last week, shot a 4-under 68 to win for the second straight week.
Patti Thawatanakit (Thailand) and Choi Hye-jin (24), who plays on the U.S. Women's Professional Golf (LPGA) Tour, were also among the top players on day one to join their homegrown counterparts in contention for the title. 온라인카지노
Tawatanakit shot a 4-under 68 and is tied for fourth with Madasom, while Choi Hye-jin shot a 3-under 69 and is tied for sixth with Lee Da-yeon.
Lee Ye-won, 20, who is closing in on her first 1 billion won season, shot a 2-under 70 on day one and is tied for 10th, while Lee Min-ji (AUS), the highest-ranked player in the field at No. 7, and former world No. 1 Lydia Ko (NZL) finished the first round at 1-under 71 and tied for 19th.