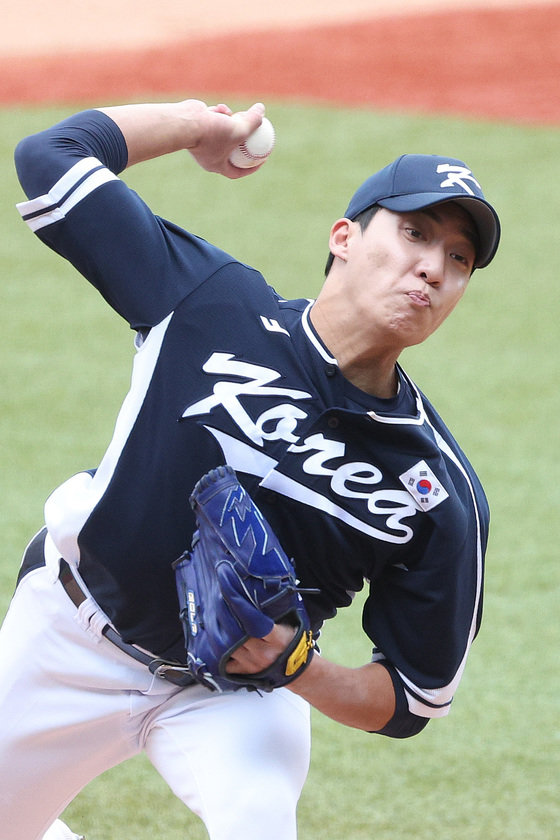 South Korea's Won Tae-in reacts during the first inning of the baseball Super Round 2 match between
South Korea and China at the Hangzhou 2022 Asian Games at the Shaoxing Baseball and Softball Sports Center 1 on October 6, near Hangzhou, China.
Won Tae-in (Samsung Lions) got the job done by shutting out the Chinese bats.
Won pitched six innings of three-hit ball, striking out six and walking none in the second game of the
Hangzhou 2022 Asian Games Baseball Super Round against China at the Shaoxing Baseball and Softball Sports Center 1 on Oct. 6.
Won, who pitched four innings of one-hit, eight-strikeout ball against Hong Kong in the first game of the
group stage on April 1, dominated the Chinese bats in the second game on four days' rest.
After allowing just one hit through three innings, Won gave up back-to-back singles to Kou Yong-kang
and Chao Ze in the top of the fourth to put runners in scoring position for the first time, but he got Chen Jia-jie to fly out to center field to end the threat.
There was no more danger after that. He retired the Chinese batsmen in order in the fifth and sixth
innings. With the bats scoring six runs early, Won had what it took to win the game.
South Korea pulled Won to start the seventh inning and sent Jung Woo-young to the mound. Following
Park Se-woong's six innings of scoreless relief against Korea the day before, Won Tae-in's long innings
allowed South Korea to utilize its full arsenal on the mound in the final.
Meanwhile, South Korea leads 6-0 in the eighth inning. 19가이드03