Barshim-Tambery has been withdrawn, and Wo will now face Harrison in the second round of the Diamond Final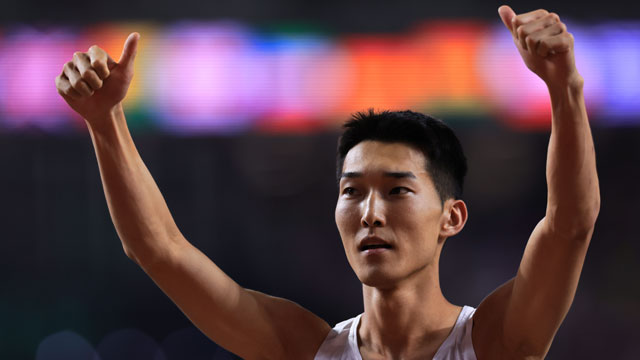 'Best jumper in the world' Mutaz Essa Barshim (32-Qatar) and 2023 World Athletics Championships champion Jean-Marco Tamberi (31-Italy) will not compete at the Diamond League Final.
The race to win the men's high jump at the 2023 World Athletics Diamond League Final at Hayward Field in Eugene, Oregon, USA, on Sunday (3:08 a.m. ET) will likely be a two-way battle between Woo Sang-hyuk (27-Yongin City Hall) and Jubon Harrison (24-USA).
The Eugene Diamond League Organizing Committee released the final entries for each event at the Diamond League Finals on Wednesday.
The men's high jump roster is missing Barshim and Tamberly.
Barshim is a three-time Diamond League Final champion (2014, 2015, 2017), while Tamberi is the defending champion, having won back-to-back titles in 2021 and 2022.
Featuring world-class players, the Diamond League hosts 14 tournaments a year.
Players are ranked based on ranking points earned in 13 events, with the 14th final event, the "championship," crowning the winner.
The first through eighth place finishers in each competition are awarded eight to one victory points, depending on their ranking, and the top six overall qualify for the Diamond League Finals in the men's high jump.
Barshim finished first with 29 points, while Tambéry earned 15 points for fifth place and a spot in the Diamond League Finals.
However, Tambéry withdrew from the Diamond League Finals, saying, "I've decided to end this season."
Barshim did not disclose the reason for his absence. After struggling with back and ankle injuries in 2017, Barshim, who is playing a "limited number of games per season," is likely pulling out of the Diamond League Final to prepare for the Hangzhou Asian Games, where he will compete in the men's high jump final on October 4.
Woo Sang-hyuk, who enjoys "competing against the best in the world," is not happy about Barsim and Tambéry's absence, but his chances of winning have just gotten better.
"Winning the Diamond League is one of my dreams," Woo said in a recent interview with the Eugene Diamond League organizers. The opportunity to fulfill that dream has arrived.
Woo has competed in four of the six Diamond League events this year.
His second-place finishes in Doha (2m27) and Rome-Firenze (2m30) earned him seven points each, while he failed to record a jump in Stockholm.
Woo added six points with a third-place finish in his final event in Zurich, giving him a total of 20 points and a fourth-place finish.
This is the first time a South Korean athlete has competed in the Diamond League Final, which is considered the second most important event for track and field athletes after the Olympic and World Championships.
Last year, Woo missed the final by one point, finishing seventh.
If he is crowned the Final Champion, he will receive a diamond-shaped trophy and $30,000 (about 40 million won) in prize money.
Woo's rival, Harrison, finished second at World Championships Budapest 2023 and has won three individual Diamond League events this year. He finished second in Doha and Rome-Firenze.
Woo didn't win an individual Diamond League event this year, finishing sixth at the World Championships in Budapest.
However, Eugene Hayward Field, where the Diamond League Final will be held, is the same venue where Woo cleared 2.35 meters last July to become the first Korean athlete to win a World Championships silver medal.
The Diamond League organizers have named seven athletes to the final field, including Harrison (2nd), Hamish Kerr (3rd-New Zealand), Woo (4th) and Thomas Carmoy (6th-Belgium), who qualified for the final on points, plus three more athletes, Luis Enrique Sayas (7th-Cuba), Andriy Prochenko (8th-Ukraine) and Norbert Kowielski (10th-Poland).
The number of players in the Final went from six to seven, as we gave all of the players we had "reserve" in case of a player withdrawal.
Only one jumper entering the Diamond League Final 먹튀검증토토사이트 has a higher outdoor best than Woo's (2.35m), Harrison (2.36m).