MLB Officially Announces "March 20-21 Series in Seoul"
It is the first time ever that an official MLB game will be held in Seoul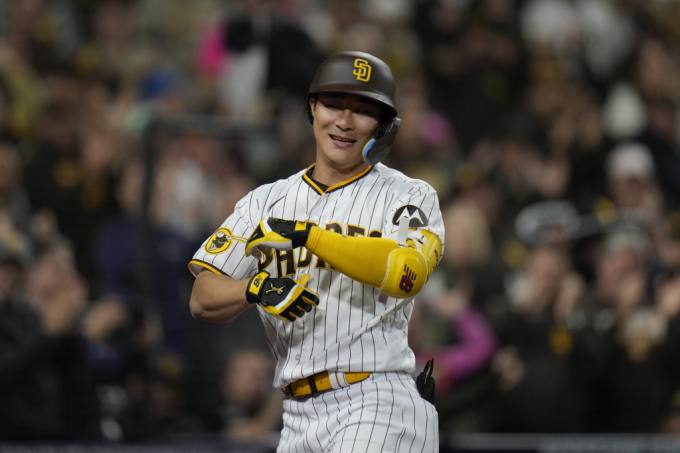 For the first time ever, Seoul will host an official Major League Baseball (MLB) game next year.
The MLB office announced on March 13 (KST) that the Los Angeles Dodgers and San Diego Padres will play their regular-season opener in Seoul on March 20-21 next year.
MLB.com reported the news, noting that this is the first time an MLB regular-season game will be played in South Korea, and that San Diego and the Dodgers will play the first two games of the regular season.
This means that fans in Seoul will be able to see Korean slugger Kim Ha-seong, who plays for San Diego, play in an MLB regular season game.
The MLB office did not disclose the venue for the Seoul series, but it will likely be held at Gocheok, South Korea's only dome ballpark, to avoid cold weather in late March and possible rainouts.
"The MLB office and the KBO have long discussed the possibility of holding an MLB regular season game in Seoul as part of the 'World Tour,'" said a Korean Baseball Organization (KBO) official. MLB officials have been conducting due diligence on the Gocheok Sky Dome."
With Gocheok as the host venue, the Seoul Series will be even more special for Kim Ha-seong. When he was playing for the Kiwoom Heroes, the Gocheok SkyDome was his "home away from home.
The MLB Secretariat dreams of globalizing baseball and has been conducting "world tours" to play regular season games in other countries, and is trying to gradually expand them.
There have been eight previous MLB regular-season openers outside the United States. Monterrey, Mexico in 1999, Tokyo, Japan from 2000-2004, 2008-2012, and 2019, San Juan, Puerto Rico in 2001, and Sydney, Australia in 2014.
Seoul will be the ninth. It will join Tokyo as the second city in Asia to host an official MLB Opening Day game.
San Diego, which played MLB's first-ever regular-season opener outside the U.S. borders against the Colorado Rockies in Monterrey, Mexico, in 1999, is making its second consecutive trip to the world following this year's Mexico series against the San Francisco Giants.
"South Korea is a great baseball country with a rich tradition, passionate fans, and talented players, including current San Diego fan favorite Ha-Sung Kim," said San Diego's CEO Eric Groupon. "The Padres are proud to join the Dodgers as ambassadors of the game in the historic 2024 Seoul Series."
This will be the second time in 10 years that the Dodgers will open their season outside of the United States, having opened against the Arizona Diamondbacks in Sydney in 2014.
"I know our players are excited to showcase their skills in South Korea, a country rich in baseball tradition and talent, including players who have played for the Dodgers, such as Chan Ho Park, Hee-seop Choi and Hyun-jin Ryu," said Dodgers President Stan Castine.
In a separate press release, the Dodgers added a bit of significance to the Seoul series.
The organization noted that four Korean-born players have worn "Dodger Blue": Chan Ho Park (1994-2001-2008), Hee-Seop Choi (2004-2005), Jae-Eung Seo (2006), and Hyun-Jin Ryu (2013-2019).
Park Chan-ho (2001) and Ryu Hyun-jin (2019) played in the MLB All-Star Game with the Dodgers, and Kim Byung-heon (2002) and Choo Shin-soo (2018) are the only four Koreans to play in the All-Star Game.
The MLB office will organize four world tours next year, including the Seoul series.
Prior to the start of the regular season, the Boston Red Sox and Tampa Bay Rays will play an exhibition game in the Dominican Republic on March 10-11. 토토사이트 It will also host a series in Mexico on April 28-29 (Houston Astros-Colorado Rockies) and a series in London on June 9-10 (New York Mets-Philadelphia Phillies).